During International Women's Month, CochraneTODAY is celebrating women that are making a difference in our local business and community landscapes.
Meet Barb Kolody from Crabapple Cottage.
For Barb, owning and operating Crabapple Cottage is not just a job; it's a Passion!!
"Margaret Barclay opened Crabapple Cottage in 1996," Barb explains. "I started working for her in 2011 and in 2017 I purchased the boutique.
Today she calls Crabapple Cottage a "Labour of Love." She runs the boutique along with "her amazing manager and wonderful staff." She adds, "My husband has been so supportive; I can't thank him enough! He handles the background of the business, the financials, reports, etc. He even helps me unpack boxes, put clothing on hangers and is a whiz on the computer too. I'm very grateful for his support and for the great support of my team."
Her Manager, Penny, plays a big role in the advertising and was instrumental in the rebranding. They work together on the fashion buying decisions and she helps to set the fashion direction of the boutique.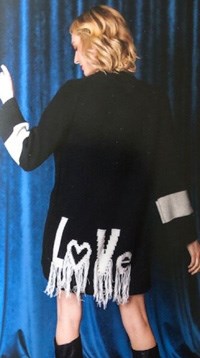 There really is no place like Crabapple Cottage. Nestled in the hamlet of Bragg Creek, it's where women of all ages and body shapes find great quality clothing, jewelry, accessories and footwear. There is a big focus on Canadian brands, but also imported fashion finds from around the world. Women come from far and wide to shop at Crabapple Cottage for their next new look or for gifts for the special women in their lives. Some of the popular brands at the boutique include CharlieB Collections, Driftwood Denim, Joseph Ribkoff, Picadilly Canada, Tribal Fashions and Vintage Hot Rocks Jewelry; just to name a few.
"We are focused on keeping it fresh and having stylish clothing for everybody" says Barb. "That is something we really think about every time we look at a clothing and accessories brand. We are well known for our Classic Casual collections."
A boutique of this caliber is often seen in the city, but Barb has many great reasons for remaining in the hamlet of Bragg Creek.
"Our hamlet has so many unique shops and wonderful restaurants. The area is a playground for cross-country skiing, snowshoeing, hiking and so much more. Not only does Crabapple Cottage have its own local following, it's a destination for those living in the surrounding areas."
Barb has always held the value of giving back to the community. She donates to many local causes and helps support other causes, like the Kinette Girls Club of Calgary. She has also sponsored a Canadian athlete and local resident, who is a professional speed-skater and Olympian.
"I'm very pleased with what we have accomplished here," smiles Barb. "I love the warm and welcoming environment we have created at the Cottage. Myself and my friendly and helpful staff have a deep appreciation for our clientele and it's important that we give them excellent, personalized service and make sure they leave with an outfit right for them. I'm proud of what we bring to the community. There are many female entrepreneurs in Bragg Creek and we're supportive of each other. We lead by example."
Crabapple Cottage has your next Fabulous, Fashionable find. The staff are friendly and honest, helping their clientele find their perfect style while creating a relaxing and enjoyable environment in the boutique. Take the time to visit the hamlet of Bragg Creek, enjoy the Cottage and everything else the community has to offer. COME IN AND FEEL SOMETHING SPECIAL, "THERE'S NO PLACE LIKE THE COTTAGE". Learn more online, Facebook and Instagram.